Todd Rundgren conquered technical problems to deliver a rousing set at the Boulder Theater on Monday. Photos by Mark T. Osler.
And here we thought he was Mr. Technology…
Before a Monday night set at the Boulder Theater, Todd Rundgren and his band were held up for nearly an hour due to power problems related to the concert's filming for local high-definition television. Rundgren, a cross-genre pioneer, has played an instrumental role in the early music videos, early interactive music web sites — even a seminal computer-paint program. Who would have thought something so quaint as television would stymie this technological Renaissance Man?
And while we're asking questions… given Rundgren's producer reputation: Who would have thought Monday's show would be free of synths, samples, and other technical doodads — that in essence it would be straight-ahead, boozy, floor-shaking rock 'n' roll?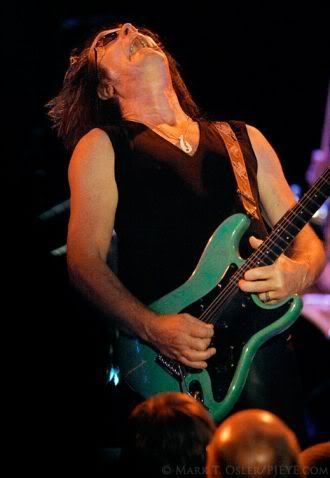 His fans would have thought this, of course. He's got a cult, many members of whom are half Rundgren's 60-year-old age and were out that evening to see the New Wave Buddha. But while Rundgren is a household musical name, it's primarily for his work as producer (on albums including Meatloaf's "Bat out of Hell"), not for his own songs.
On stage Monday, Rundgren (in black tank top and leather pants; one of the only bits of color on stage was his green guitar) and company were all cool, smirks, and noise. Opening with "Love in Action" from his "Very Best of Todd Rundgren" greatest hits compilation, he immediately set a sludgy, Spinal Tap-esque tone. His take on his own cool was a bit wink-wink: "Ahh… there goes my foundation," he told the crowd as he took off his sunglasses to wipe the sweat from his brow.
Rundgren was an amiable onstage presence, completely comfortable in his own skin as he blasted through semi-hits like "Lunatic Fringe" and "Just One Victory" during the first half of the set. After a handful of these Rundgren, fulfilling his earlier promise to "start with the familiar and finish with the profane," dove deeply into testosterock with a series of progressive-tinged songs from his upcoming album, appropriately titled "Arena." The volume in the room, already loud, seemed to get even louder — this show's volume level was pretty up there. The songs, to my (admittedly, not entirely converted — and this was a show for the converted) ears, didn't much reflect the ingenuity that has made Rundgren such a pioneer.
Maybe I'm just feeling old and fat this week, but I cannot recall the last time I saw a 60-year-old move around with as much fervor as Rundgren did Monday night. He is up to the task of rock 'n' roll, and he probably will be when he's 80. At evening's end, after more than the usual number of refugees had exited before the last encore (the set did end late), he stood strong. In so many ways, Rundgren was the first one to the party, and Monday night he was surely the last to sleep.
Nashville's Will Hoge opened up, getting loose and getting his beard stuck in the harmonica during his self-described "big, dumb, rock 'n' roll songs." Hoge's straight-ahead Americana thing was a fine lubricant.
Jeremy Simon is a Lafayette-based Reverb contributor.
Mark T. Osler is a Pulitzer Prize-winning photographer and regular Reverb contributor.